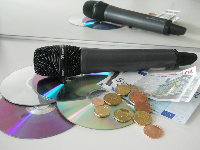 Crowdfunding (ook wel 'publieksfinanciering' genoemd) is een alternatieve wijze om een project, evenement of onderneming te financieren.

Crowdfunding gaat in principe als volgt: Een groep of persoon, dat kan zowel een ondernemer als particulier zijn, wil een project starten, maar heeft onvoldoende startkapitaal. Om dit kapitaal te verwerven biedt hij of zij het project aan (bijvoorbeeld op een platform op het internet en vermeldt het benodigde bedrag erbij. Op deze manier kan iedereen investeren in het project. Het idee erachter is dat veel particulieren een klein bedrag investeren en dat deze kleine investeringen bij elkaar het project volledig financieren. Dit in tegenstelling tot bankkredieten en grootinvesteerders, waarbij er sprake is van slechts één of enkele investeerders die een groot bedrag inbrengen. Deze kleine investeerders noemt men the crowd het Engelse woord voor de mensenmassa.

VoorDeKunst is een crowdfundingplatform dat ook uiterst geschikt is voor projecten in de wereld van muziek. Men helpt je stap voor stap naar een succesvolle crowdfundingcampagne. Voor, tijdens en na je campagne word je persoonlijk begeleid door dezelfde persoon.