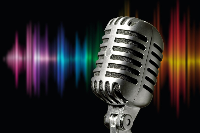 Howard Andrew (Andy) Williams (Wall Lake, 3 december 1927 – Branson, 25 september 2012) was een Amerikaanse zanger uit het lichte genre, ook wel behorend tot de zogeheten crooners. Hij is een aantal jaar gehuwd geweest met de zangeres en actrice Claudine Longet.

Williams had van 1962 tot 1971 zijn eigen show op de Amerikaanse tv. Hij had ook een eigen theater, The Moon River Theatre in Branson in de staat Missouri. Andy Williams vergaarde gedurende zijn zangcarrière 18 gouden platen en 3 platina platen.

Enkele van zijn grootste hits zijn Moon River, Love Story, Happy Heart, Can't Take My Eyes Off You en de grote kersthit It's The Most Wonderful Time Of The Year. Ook zeer bekend en geliefd is zijn versie van Music to Watch Girls By.
Bron en meer informatie
Wikipedia
Website / Facebook
YouTube
CD's, DVD's en boeken: Bolcom / Amazon